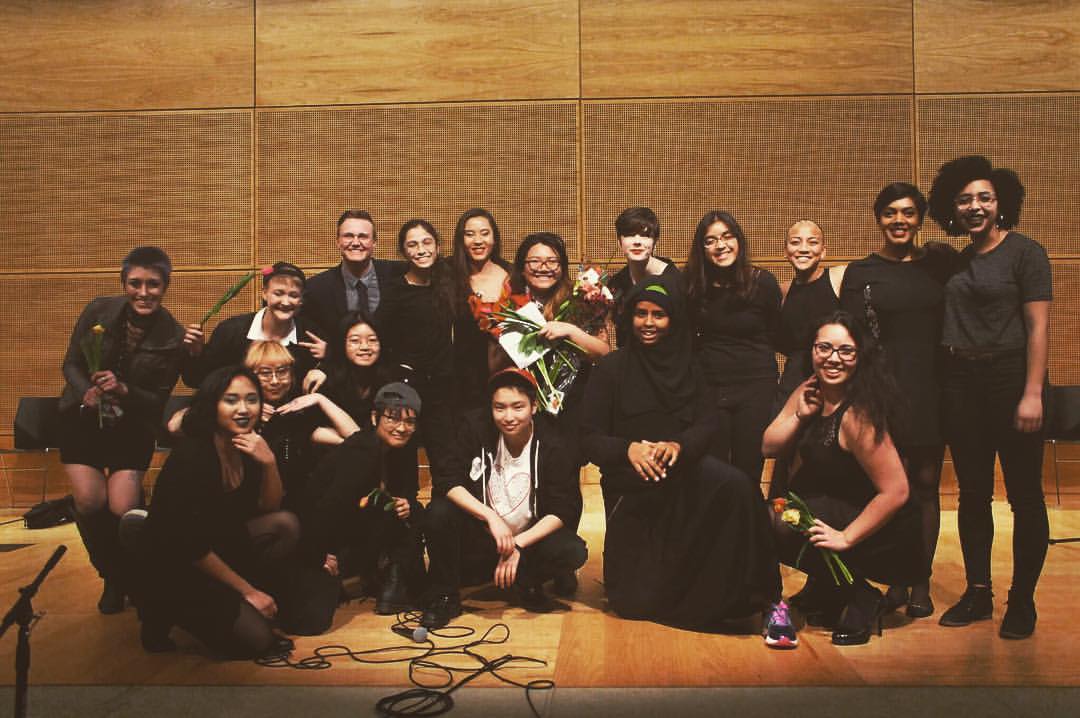 Returning to my roots: Acknowledging the intersectionality of my identity through performance
"So, how do I survive? A lot of different ways … I recognize the blessings in the forms of wonderful friends who will let me send novels over text, notebooks pages full of brightly colored ink and blatantly honest assertions, and moments where I look at a cake pop and say "treat your self. And while you're here, get a latte too."

- Excerpt from my monologue, "Norming and Reforming my Identity"
Since freshman year, I've dreamed of performing in the Blank Monologues, which is a student-run production hosted by the ASUW Women's Action Commission that focuses on empowering the voices of students and their stories of survival, resilience, and identity.
I remember filling out the application while waiting for a concert to begin, and I discussed my own intersectional identity and the ways that I interfaced cautiously with the world. I almost walked away from the group interview because I questioned my ability to share a compelling narrative about my story, but when I ran into my coworker at The Daily on the way out, I took it as a sign that I should try anyway.
During winter 2017, I received the news that I had been selected as a performer.
Although I was elated that my freshman year dreams were coming true, I was also completely terrified.
Somehow, I managed to set aside my fear and say yes, believing that I was selected for this opportunity for a reason. I worked with the other performers and my facilitator to craft my monologue, which was called "Norming and Reforming My Identity." My story focused on the way I interacted with the world as an outsider because of my identity as a Pakistani Muslim woman, and all the covert ways I had been silenced throughout my life. I also discussed how this impacted my perception of my physical body as a vehicle that I could break and build up into better in order to be respected by my peers.
Getting up on a stage with just a mic and a spotlight to accompany me was the most frightful and liberating thing I did this year.
My roommates, childhood friends, and acquaintances from my time at the UW saw me share everything about myself without any filters, and I hoped that it would help them see me a little bit more clearly. For three nights in a row, I shared my honest and unfiltered story on the stage of the HUB Lyceum and people I knew (and people I didn't) laughed and cried and snapped along.
From this experience, I realized that my story is valid and deserves to be heard. As I mention in my monologue, I really am here, living to fight another day. Ultimately, I am thankful for my brown skin/ religion / struggle /self-imposed identity crisis / good friends for helping me develop a story that was worth telling.
A few of the kind messages I received about the monologues
Becoming the most authentic version of myself
Ultimately, this experience helped me see my own identity as a strength. I was certainly born and trained to be a storyteller, but I have always put other people's stories first. I could spend a lifetime just listening to people talk about the central conflict in their lives, or the thing that gets them out of bed in the morning. This is why I ask open-ended questions and seek jobs that are rooted in genuine conversation where I watch people light up when talking about their passion; however, I don't always create room for my own story.
Through this experience and everyday conversation with peers, I'm learning how to make room for myself in spaces where I haven't been welcome. Our narratives, the ones of people of color and marginalized communities, deserve to be heard, and you cannot silence the people who are not afraid anymore. After participating in the monologues, I felt like the most authentic version of myself and am not afraid to call people out on their privilege or language. I celebrate my identity by actively sharing my story and surrounding myself with people who appreciate and respect my culture and values in their purest form.
From performer to facilitator: Helping other people tell their story
The following year, I decided to shift into a mentorship role. And things were different this time. I know how to own my weird emo-hip hop-shock rock music taste. I know how to believe that I'm a prize, not to win but to choose & be blessed with. I'm starting to see myself as inherently strong, someone who can draw out the best in others just by helping them see it. And liking myself feels really fucking good.
I know that I don't always get it right, but I'm glad that I can love people deeply and respond to mean words with kindness – at least most of the time. And I'm proud of myself every day for making the choice to share because I know that a lot of people can't. I hope that everyone gets the opportunity to tell their story and be seen.
And as for me, I don't have a sad story but one of triumph, of love and goodness and greatness that's been coming my way for a while. I have waited my whole life for love and community like this.